If you've visited your local tip lately you might have noticed a mountain or two of wooden pallets, packing pallets, the type they load bricks or tiles on. I certainly have. It seems such a waste of our precious resources to be putting all of these into landfill!
Equally if you trawl through the internet looking for ways to recycle pallets, you'll come up with a mountain of incredible ideas. So far we've used pallets for our compost heap frame, outdoor seedling shelving, fencing the chook shed and now fencing off the vegetable patch, a fence that not only looks great, but will be perfect for growing raspberries, passionfruit, beans, peas, jasmine, roses etc.  Darryn even made the fence's gate from a pallet.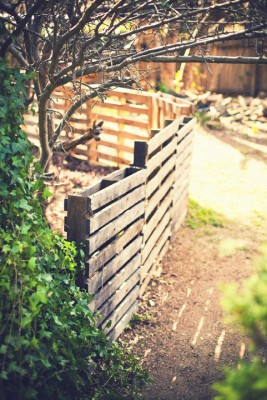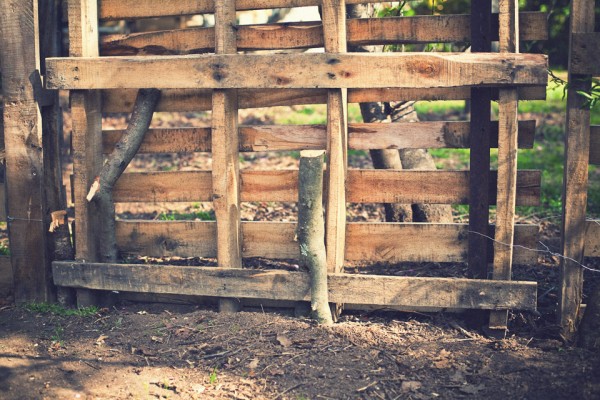 The fence was relatively easy to put up – just support with a few stakes (we've used branches from the trees we've felled and a few metal stakes here and there for added stability) and then nail together where possible. Cheap too…. they've ranged from $2.50 a pallet to free!!! And we're saving them from landfill!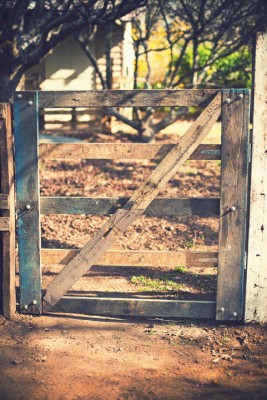 At first we were sourcing our pallets from the tip at $2.50 each, then a few came from our local co-op for free…. until, I hit the jackpot! Whilst at our local nursery buying some dynamic lifter for the spring feed I saw a large pile of pallets out the back and figured it wouldn't hurt to ask if they wanted to get rid of a few. WELL…. it certainly doesn't hurt to ask, not only were we given ALL the pallets, but they were delivered to our house for free by the nursery!!! Our house is a much shorter drive than the tip for them, which is where they were due to dump the pallets the next day – win, win!
So…. I wonder what other pallet creations are to come? Outside daybed? Potting table? Any suggestions?