Isn't it incredible the way food brings people together. It seems to be the glue of our social fabric…. food is always there. Sometimes it lurks in the wings and you hardly notice the doughy biscuit that slips down with the weak tea in a meeting, whilst it always hails as the main event at a family Christmas…. but sometimes, if you're lucky, it brings new people into your life and cements a friendship. My family got lucky…. and we have garlic to thank!
Our family met Antonio and his family last year as we were all wallowing at a local waterfall swimming hole one stunning afternoon. We've since become good friends, but it has been garlic that has cemented the deal. Antonio had been cultivating his own organic garlic seed for many years, and then found himself between homes at time of planting, so asked us and another local family if he could plant on our properties and then we can share the crop. I just love this idea, communal garlic… and by November it certainly will be Peak Garlic!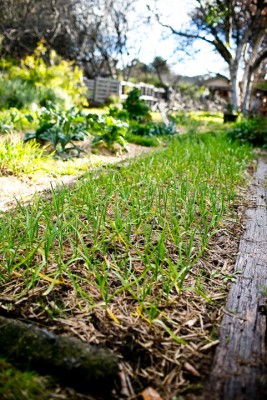 Not only does Antonio get to continue the blood line of his beloved garlic, but we'll get some free garlic and the beginnings of our own bloodline… and best of all, it's brought our families closer together. Thank you garlic, and thank you Antonio. Stay tuned for Antonio's tips on plaiting the garlic at the end of the year!