How to give, without giving the earth.
I love giving gifts, but it is easy to get caught up in the commercial world of spending without thinking. Not only do I think it important that I think about what the person might actually want, but also what impact that gift will have on the environment.
I try, I don't always succeed, sometimes lured by something gorgeous or something easily accessible…. but I'm getting stronger because I know there are so many wonderful GREEN options out there.
Here are some gifts I wrapped up this week for two special people in my life. For one gift  I purchased a $1 frame from a secondhand shop and created my own bit of art on recycled paper…  a 100% recycled notebook … an eco cloth bag.  I usually make my own cards, but have a stash of recycled / eco friendly bought cards if I run out of time and a birthday is looming. I then get to the really exciting bit, wrapping. I love making gifts look beautiful, and through using recycled paper, natural hemp and cotton twines and scrap paper etc, I hope I show my recipient that I care about them, but I also care that their gift will be kind to the planet too.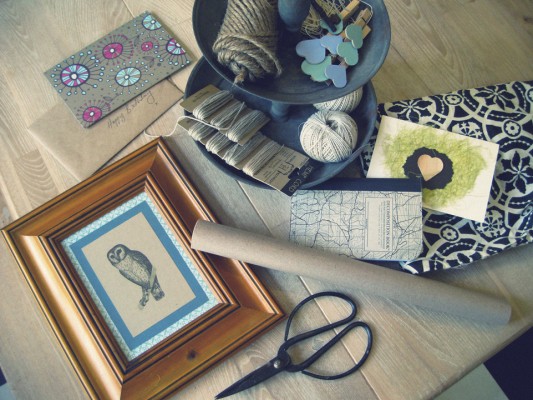 As for kids toys / gifts, there are SO many educational, beautiful, earth friendly and child friendly products out there.