Zucchini anyone?…. Please?!!!
I'd been warned, I'd heard rumors… but did I listen? NO!
Zucchinis are PROLIFIC!!! Four plants for a family of four are TOO MANY!!!! And quite seriously, these little devils will literally double in size overnight. Thankfully I have lots of family and friends to off-load onto … and now I have lots of zucchini recipes… tried and tested. Here are my pics of the bunch!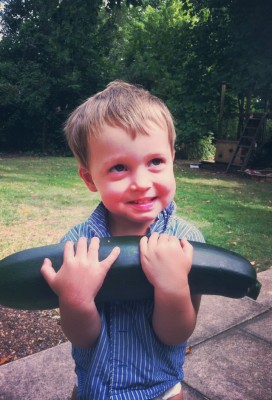 -Zucchini chocolate cake. Kids didn't realise they were munching on veggies at the boy's birthday party!! (Recipe care of Jackie French)
185grm butter or margarine, 1 cup of brown sugar, 2 eggs, 1 1/2 cups of grated zucchini, 1 1/2 cups of SR flour, 1/4 cup of cocoa, 2 teaspoons of finely grated orange rind, 3/4 cup of milk. Cream butter and sugar; beat in the eggs one at a time; gradually stir in the other ingredients. Stir just enough to combine – don't overbeat. grease and flour cake tin; pour in batter; bake at 200 degrees for about 50 mins or till firm.
-Stuffed Zucchini flowers. Eating the flowers seems to have NO effect on the production of fruit… and if it does… it is negligible and handy if you can't keep up with the production of fruit anyway. Oh and the lemon mayo is NOT optional…. soooooooo good you'll be dripping it on anything you can get your hands on!! (Recipe care of Donna Hay).
 1 cup (125g) Gruyere
 1 cup (80g) grated parmesan
 1 cup (70g) fresh breadcrumbs
 2 cloves garlic, crushed
 40g melted butter
 sea salt and cracked black pepper
 12 zucchini flowers, zucchini attached
 1 cup (150g) self-raising (self-rising) flour
 1 ¼ cup (310ml) chilled water
 vegetable oil, for deep frying
lemon mayonnaise
 ½ cup (150g) whole-egg mayonnaise
 2 tablespoons lemon juice
 1 clove garlic, crushed
To make the lemon mayonnaise, place the mayonnaise, lemon juice and garlic in a bowl and stir to combine. Set aside.
Place the cheeses, breadcrumbs, garlic, butter, salt and pepper in a bowl and mix well to combine. Carefully spoon into the zucchini flowers and gently twist the ends to secure. Place the flour in a bowl and make a well in the centre. Gradually add the chilled water, whisking until smooth.Heat the oil in a large, deep saucepan until hot. Dip the zucchini in the batter and deep-fry in batches for 1 minute or until golden and cooked through. Drain on absorbent paper and serve with lemon mayonnaise. Makes 12.
(Tip from me: I made up a big batch of the stuffing and froze it in a container so when I have guests I can just stuff and go!)
–Zucchini fritters. Grate about 3 medium zucchini, or just one giant one. Squeeze out as much excess moisture as possible. Transfer to a bowl. Stir in self-raising flour (1/2 cup), parmesan (1/2 cup), 2 shallots, egg, parsley (1/4 cup of chopped), oregano (2 tsps of chopped leaves). Heat olive oil in a non-stick frying pan over medium-high heat. Drop four 2-tablespoonful measures of zucchini mixture into pan. Cook for 1 1/2 minutes each side or until golden and cooked through. Transfer to a plate lined with paper towel. Make lots!
-Zucchini soup.  Lightly fry one leek, a couple of garlic cloves and 1 extra large zucchini until soft. Add chicken stock and bring to boil, then simmer for a couple of minutes. Use bar mix to blend all to a smooth consistency. Add some cream (30ml?) at the end to make it as creamy as you desire. YUM!!!
-Zucchini slice (Recipe from my lovely cousin in law Bec).
You can use different cheeses in this recipe.. pecorino and parmesan, or even ricotta and goat cheese!
Ingredients
400g zucchini
1 onion
2 rashers bacon (about 100gr)
25gr (1 ½ Tbsp) butter
45gr (3 Tbsp) pecorino
45gr (3 Tbsp) parmesan
4 eggs
110gr (½ cup) self-raising flour
Sea salt and freshly ground black pepper
Preheat oven to 180°C
Method
1 Grate zucchini, peel and dice onion and chop the bacon. Melt butter and gently soften onion in it until beginning to become translucent, then add the bacon and cook for couple of minutes more. Remove from heat and chill.
2 While the bacon and onion mix chills grate the cheeses. Crack the eggs in a bowl and beat lightly.
3 Mix together the grated zucchini, bacon mix, cheeses and flour. Combine this mix with the eggs. Season if needed.
4 Pour in a greased, shallow tin and bake for 30 minutes.
This is great hot or cold. Enjoy!
-Stuffed and baked zucchini. Scoop out soft flesh of the zucchini and stuff with risotto or bolognese sauce. If doing bolognese you can add the soft flesh you have scooped out as part of the sauce. Top with some cheese, pop it into the oven (180 degrees) until the zucchini is soft.
-Zucchini grated into … pretty much everything.. but always into mince sauces
-BBQ zucchini slices … ahh that's pretty much it, you BBQ slices of zucchini!!
–Stir-fries galore (no recipe needed… just throw chunks in generously with your other veg)
I've also frozen bags and bags of grated zucchini to use when they eventually decide to stop producing.
I can't quite believe my children, and husband, are still eating them to be quite honest… but if you want bang for your buck in the veggie patch, this surely has to be the winner!