The keys to our new home.
Finally holding the keys to our new home!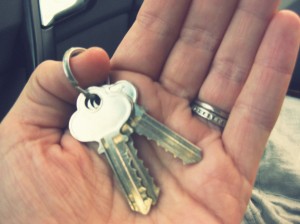 On my last visit to the house the possibility of actually purchasing the property was still a little remote, so to be actually driving there with my wonderful sister to clean it for our impending move was quite unbelievable.  We were welcomed by the garden in all it's autumn splendor.
The giant tree in the backyard, which holds the three-story cubby house (African tulip tree), was a vibrant yellow.
The evidence of a bountiful and beautiful spring/summer was scattered through the tangles of the overgrown gardens… a rose, a miniature daisy, a delicate pink and white bloom I can't yet identify.  I'm so looking forward to getting to know these new friends and to help them return to their former glory. There is something very familiar about this garden…. crunching through the autumn leaves and brushing past the maze of bushes I have wafts of memories of my lovely Nanna Lumb, I can only hope Poppa Lumb's green thumb is in the genes!
Stumbling (literally) through the gardens, there are lots of fallen twigs, had my mind racing with all the potential…. main crop of veggies here… compost there… rhubarb, pumpkin, zucchini and other roamers in that corner. Amongst all the excitement was a little whisper of apprehension at the sheer size of the garden (an acre) and my lack of experience, and TIME!  But I beat that evil shadow away as any decent, optimistic… perhaps somewhat naive owner would.
I do acknowledge that I will have to hit the internet to find a good chook house design (stay tuned!). What I thought was a ready built one turns out to be a second wood store (amazing how blind one can be when in love!).
The good news is, I'm still in love… and not just with my wonderful husband. This house is all I've ever dreamt for in a property; space, deep verandahs dripping with wisteria, an orchard, french doors galore, fireplaces, sash windows.. and so much character it's hard to see the plot line! I love it, I love it, I love it!!!!  It even has a volleyball court! Must be a sign.
What I love most about this home is I think it offers us the opportunity to build a very happy and healthy life for our children, and ourselves.