I love FREE FOOD!
I'm not talking about the wonderful food sharing that happens between friends and family, although that is particularly special, and very appreciated. I'm talking about within your own garden. Yesterday I discovered over 30 cos lettuce seedlings sprouting around my compost heap. They'd obviously sprung up after I'd let a few plants go to seed.  Half the pumpkins crawling their way around our food forest emerged from homemade compost, as did over 8 tomato plants which are towering around the garden, their lofty heights hindered only slightly by their heavy loads (it seems the self seeded tomatoes are much more fruitful than the rest… survival of the fittest in action!).   Not only were all these yummy treats free – ie. they'd self seeded themselves and I haven't spent a cent, but they were also free of labor and it goes without saying in an organic garden, but they are free of chemicals too. Free, free, free.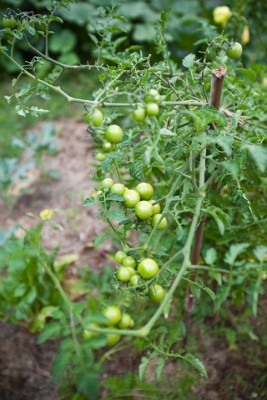 This entry was posted on Tuesday, March 12th, 2013 at 10:06 am and is filed under
Garden things
. You can follow any comments to this entry through the
RSS 2.0
feed. You can
leave a comment
, or
trackback
from your own site.