A few posts ago I mentioned the quilt I made for Josh…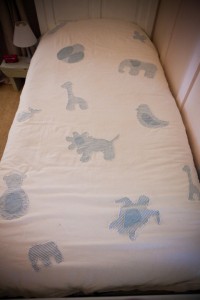 well it's just gone through a very traumatic day, first with Tomas, then with black cockatoos!
First, a nappy changing disaster had Darryn scrubbing and spraying a small stain out of a hand stitched animal. I hung it out on the line to dry. That afternoon I went out to bring in the washing… to find the quilt… the white side of the quilt… TOTALLY covered in dark purple bird poo!!!
Let the scrubbing begin!
This entry was posted on Tuesday, May 29th, 2012 at 11:59 am and is filed under
Crafty Things
. You can follow any comments to this entry through the
RSS 2.0
feed. You can
leave a comment
, or
trackback
from your own site.